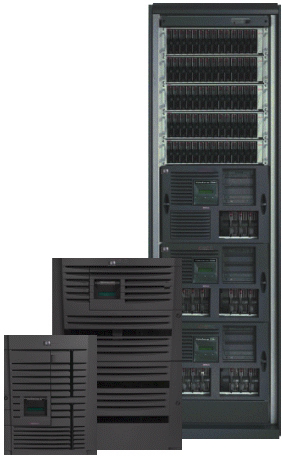 AlphaServer ES45 was introduced in 2002 as a high-performance, scalable enterprise server for business, technical, and scientific applications. It was as a high-capacity database server, high-performance application server, Network File System (NFS) server, or Internet server.
This server is the successor of AlphaServer ES40.
It has code name Privateer. Here are the characteristics:
The chipset is Titan, which is the successor of Tsunami/Typhoon used in ES40.
Enclosures:
Model variants:

Model 1: 1GHz (1B), 1.25GHz – 16GB RAM
Model 2: 1GHz (2B), 1.25GHz – 32GB RAM
Model 3: 1GHz (3B), 1.25GHz – 32GB RAM

1-4 CPUs, EV68CB, 1000MHz or 1250MHz, 8MB Cache.
Up to 16GB for model 1, up to 32GB for model 2.
6/10 PCI-X slots.
Runs OpenVMS starting from 7.3-1.
Runs Tru64 starting from 5.1A.
AlphaServer ES45 can be replaced by AlphaVM-Pro.