Our product AlphaVM can be used to create a virtual Alpha system(s) running on your Intel Xeon based host system. It allows to get rid of aging Alpha AXP based hardware. AlphaVM is a virtualization solution for DEC/Compaq/HP Alpha AXP systems. The AlphaVM solution is based on an Alpha system emulator. AlphaVM emulates a whole Alpha system. It emulates the CPU, the motherboard core logic chipset, the SCSI controllers, the disks, the tapes, the Ethernet controllers.
AlphaVM runs OpenVMS and Tru64 as guest operating systems. The whole stack of OpenVMS/Tru64, layered products and the application software runs on the virtual system unmodified.
An old Alpha system can be replaced by AlphaVM. The replacement is relatively quick and simple: the disk images from the real system can be used to create the virtual disks used by AlphaVM. AlphaVM can be configured to mimic the original system as close as possible.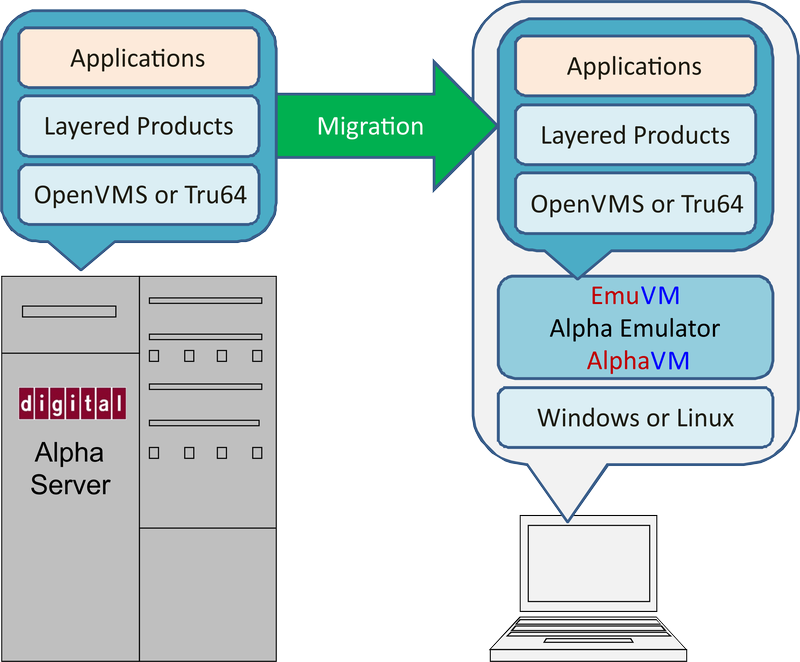 See Virtualization of Alpha Systems for more information.