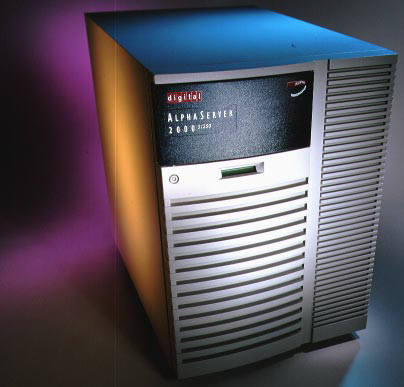 AlphaServer 2000 was one of the fist Alpha servers with PCI bus. The secondary bus is EISA. There were EV4x and EV5x versions. Here are the characteristics:
The chipset is Cbus.
Family: Sable
Models:

Demi-Sable, EV4, 200MHz, 640MB RAM
Demi-Sable45, EV45, 233MHz, 275MHz, 1GB RAM
Demi-Gamma, EV5 250, EV5 300, EV56 375MHz, 1GB RAM

1-2 CPUs
Up to 640MB/1GB.
3 PCI slots/7 EISA slots.
Runs OpenVMS starting from 6.1 (at least for EV4).
Runs Tru64 starting from ???.
AlphaServer 2000 can be replaced by AlphaVM. AlphaVM-Pro 2.x directly emulates AlphaServer 2000.
Technical documentation